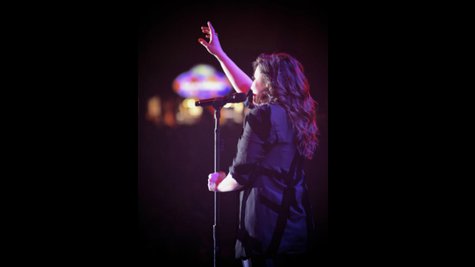 Demi Lovato 's only 20, but she's been in showbiz since she was a little kid. So it's no wonder that she's eyeing a time in the near future when she'll retreat from the spotlight.
"I think I'm going to work really, really hard for the next couple years and then after that, just settle down and either have a family, or travel the world and do just a bunch of charity stuff, and just spend time with my family," Demi tells Parade magazine. "I want to make sure I'm living my life to the fullest and make sure I give myself the opportunity to achieve my dreams, but I don't want to deprive myself of life, family and love."
Meanwhile, Demi's got plenty to keep her occupied: she's just release a new single, "Heart Attack," with a new album to follow, and she's up for returning to The X Factor if they invite her back. But she says she's disappointed that if she does return to the Fox show, her fellow judges Britney Spears and L.A. Reid won't be there with her.
"I'm really bummed that they left because if I get to go back and work, I obviously would want them to be there," Demi tells Parade , but says she understands. "It's their careers and they started off doing music so they've got to focus on what they started off doing," says Demi.
As for the new album, due in May, Demi says it's "just all-around better than anything I've ever done." Asked which artists have influenced the project, Demi says, " Kelly Clarkson has been my inspiration my whole life basically since she first auditioned for American Idol . She's a big one. Jessie J as well." She also mentions Rihanna , adding, "A lot of people have inspired this album."
Demi will perform "Heart Attack" on ABC's Dancing with the Stars April 2.
Copyright 2013 ABC News Radio