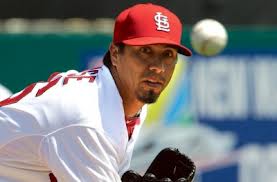 Kyle Lohse, who was 55-35 with a 3.90 ERA for the St. Louis Cardinals, has signed a 3-year deal with the Milwaukee Brewers.
Lohse, 34, agreed to a deal worth $33 million.
He went 16-3 last season for the Cardinals with a 2.86 ERA and was the last big free agent left on the market.
With starting pitcher Mark Rogers showing signs of struggle the Brewers' addition of Lohse gives the team a little sigh of relief.
Milwaukee gave up their 17th overall draft pick to sign Lohse.