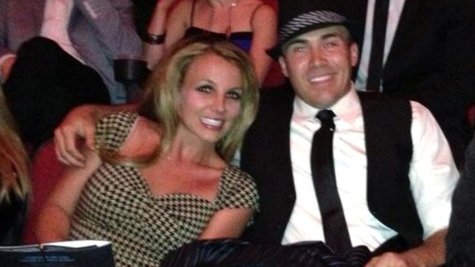 Britney Spears spent last weekend in Las Vegas, and according to the Las Vegas Sun, she wouldn't have come at all if her much-discussed Sin City residency was not a "done deal."
With new boyfriend David Lucado in tow, Britney flew into Vegas on Friday and checked into Caesars Palace, the Sun reports. She attended a charity Cirque du Soleil performance, sneaking in just as the curtain went up and leaving just before the show ended. Britney tweeted a photo of herself, Lucado and her manager, Larry Rudolph , smiling in their seats together.
Then on Saturday, according to the Las Vegas Sun , Britney's management and production team met with executives at Caesars Entertainment, which owns Planet Hollywood, and then checked out the PH Live theater, where Brit will have her residency. Britney, Lucado and her entourage then lunched at the Meatball Spot restaurant, owned by Top Chef Seattle contestant Carla Pellegrino . The couple chowed down on meatball sliders with mozzarella cheese, macaroni and cheese, and a bananas foster ice cream sandwich. An onlooker told People magazine that they "seemed happy, sitting across from each other and chatting for most of the meal."
Saturday night, Britney took in Shania Twain's show at the Colosseum at Caesars Palace and reportedly checked out the PH Live theater herself on Sunday before returning to L.A.
The Las Vegas Sun reports that Britney's residency, which will consist of 40 weekend shows over two years, won't start until next spring or this perhaps fall, at the earliest. "Everything should be announced officially in a couple of weeks," a source told the paper. "Then Britney will be back, and there will be a real celebration."
Copyright 2013 ABC News Radio