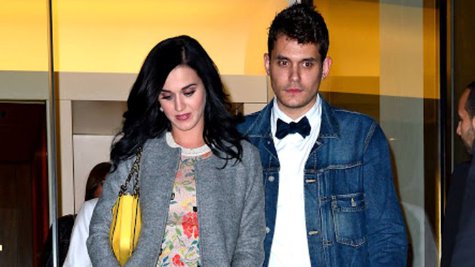 Katy Perry and John Mayer's relationship seemed to be going strong, so it was a surprise that they called it quits earlier this month. Now, however, it's emerged that professional jealousy may have torpedoed the two singers' romance.
"[John's] very defensive and comes across as extremely jealous of her career," a Katy insider tells People magazine for its new cover story. "He's basically using Katy, who fits into his plan to stay in the spotlight right now."
The source adds that John has been frustrated at the fact that his vocal problems have rendered him unable to perform live until recently. "His whole moving-to-Montana stint didn't get him the attention he wanted, and he has been going crazy not being able to sing," dishes the insider. John's rep had no comment on People article.
John and Katy's relationship "got serious really fast," says a friend of Katy's, after the two rekindled their romance this past September. Reportedly, John met Katy's parents, the couple went house-hunting, he gave her a heart-shaped ring and they attended President Obama's inauguration together. As of March 2, Katy was still gushing on Twitter about how her "boyfriend" was going to take her to a kitten shelter.
So, what happened between then and now? It's not clear, but Katy tweeted on March 15, "Perfectly put, by Daughter ." Daughter is an indie-rock group, and Katy included a link to their song "Landfill," which contains the line, "I want you so much, but I hate your guts, I hate you."
Meanwhile, John, whose voice has finally healed, has announced a tour in support of his album Born & Raised .
Copyright 2013 ABC News Radio