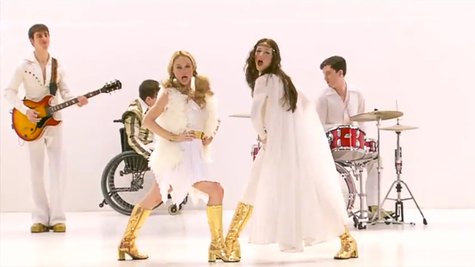 Thursday's episode of Glee is titled "Guilty Pleasures," which means the kids will be performing songs by artists they're kind of embarrassed to admit they like, including Wham! , ABBA , Barry Manilow , The Spice Girls and more.
It's Blaine and Sam who come up with the "Guilty Pleasures" assignment, since Finn has left the school and Mr. Schue is out sick, leaving New Directions temporarily without a leader. One of the performances -- ABBA's "Mamma Mia" -- is staged with the McKinley kids and the crew in New York City. Reportedly, we'll learn that Jake's guilty pleasure is the music of Chris Brown , but he changes his song to "My Prerogative" by Bobby Brown for a reason that has not yet been revealed.
Meanwhile, Blaine confesses that he has a crush on Sam, and Santana tells Rachel that Brody is a male prostitute. Rachel then performs the song "Creep" by Radiohead , which features such lyrics as "I don't care if it hurts/I want to have control/I want a perfect body/I want a perfect soul/I want you to notice when I'm not around/You're so very special/I wish I was special/But I'm a creep."
Here are the songs you'll hear on tonight's episode:
"Wake Me Up Before You Go-Go" (Wham), performed by Sam & Blaine
"Copacabana "(Barry Manilow) ), performed by Sam
"Against All Odds" (Phil Collins), performed by Blaine
"Wannabe" (Spice Girls), performed by New Directions girls
"My Prerogative" (Bobby Brown), performed by Jake
"Creep" (Radiohead), performed by Rachel
"Mamma Mia" (ABBA), performed by Rachel, Santana & Kurt (from NY) & New Directions (Lima)
Copyright 2013 ABC News Radio