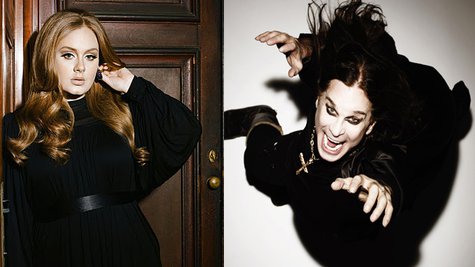 Ever since Adele became the biggest pop star in the world, nearly every major artist has said that they'd love to work with her. But one particular singer is so excited at the prospect of a duet with the "Skyfall" singer that he said he'd "die a happy man" if they only could collaborate. That artist? Heavy metal icon Ozzy Osbourne .
Speaking to Australia's Rip It Up publication, Ozzy notes that the new album by his band Black Sabbath was overseen by legendary producer Rick Rubin , who's worked with Adele. "If this is anywhere near as successful as the Adele album I'll be happy!" says Ozzy. When the publication suggests that Rubin might be able to hook the heavy metal madman up with an Adele collaboration, he was thrilled at the idea.
"I'd die a happy man. I think she's f**king great," Ozzy says, adding that he admires her because "she's not f**king botox-faced. She's a normal, healthy girl who speaks in her native accent."
Your move, Adele.
Copyright 2013 ABC News Radio