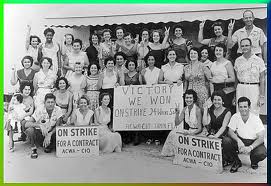 Union membership in Indiana is lower than ever according to figures released by the U.S. Bureau of Labor Statistics. Just 9.1 percent of Hoosier workers were members of unions last year.
That's down over 2 percent from the year before and the first time it's ever been below 10 percent.
Union membership is falling faster in Indiana than the rest of the nation.
There are many reasons for the drop.
One is the fact that Gov. Mitch Daniels ended collective bargaining for state workers.
He also signed Indiana's right-to-work law, which makes it illegal for a worker to be required to pay union dues as a condition of employment.
Another reason would be the drop over the last several decades of manufacturing jobs which have traditionally been union jobs.
On a more local level, Union leaders in the Terre Haute area say that their numbers have remained fairly constant with limited drops in membership.
Still unions vow to fight on and many predict that the current class war-fair being waged on a national level as well as possible pro-union legislation coming out of Washington could help.