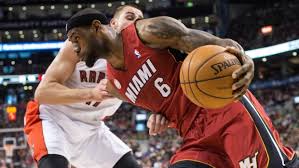 The Miami Heat tied the second longest win streak in NBA history Sunday with a 108-91 win over the Toronto Raptors.
The Raptors put up a fight tying the game at 77 in the 4th quarter and out rebounding the Heat 51-26 but that didn't stop Miami.
LeBron James posted a double-double with 22 points and 12 rebounds.
Dwyane Wade scored 24 with 9 assists while Ray Allen added 20 points with 16 coming in the 4th quarter.
The Heat tied the Houston Rockets record of 22 consecutive wins set in the 2007-08 season.
The longest win streak in NBA history was set by the Los Angeles Lakers. The Lakers won 33 games in a row during the 1971-72 season.