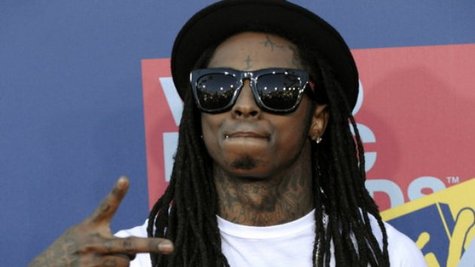 Don't believe those reports that Lil Wayne is hospitalized and near death. Not only have two of his closest friends and a spokesperson denied the rumors, but so has Weezy himself.
Mack Maine , president of Weezy's label, Young Money/Cash Money, tweeted Friday night, "Wayne is alive and well! We watching the Syracuse game...thanks for the prayers and concern..he will update you all soon." That tweet was followed by one 14 minutes later that declared , "We will be releasing an official statement shortly but dont believe the nonsense about comas and tubes to breathe...that's false!!"
About the same time, Cash Money label head Birdman tweeted , "My son is in good spirit..feelin much betta...be home soon." He also re-tweeted Mack Maine's comments just a few minutes later.
Shortly after that Maine tweeted that Waye was "bout to send a tweet out to kill this and everyone can go back to what they were doing." Then, Lil Tunechi himself tweeted , "I'm good everybody. Thx for the prayers and love."
Finally, Rolling Stone reported that a rep for the rapper issued the following statement, " Wayne is doing well now. He is recovering and appreciates everyone's concern." And a label rep told ABC News Radio, "Wayne is doing well. We appreciate your concern."

TMZ reported Friday night that Wayne is in intensive care at Cedars-Sinai hospital in Los Angeles after suffering another seizure, just a few hours after he was released from hospital Wednesday, where he'd been taken following a seizure Tuesday night. TMZ reported that one of Wayne's bodyguards found him in his room unconscious on the floor and that by Friday, he was in critical condition and near death. The site also reported that the rapper was being given last rites, but then removed that information from the site.
Maine wasn't shy about letting TMZ know how he feels about their story. He tweeted the blunt hashtag, "#F**KTMZ."
Copyright 2013 ABC News Radio