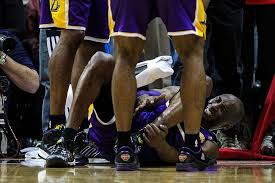 Kobe Bryant injured his ankle in Wednesday night's game against the Atlanta Hawks.
The Lakers report that Bryant severely sprained his left ankle and will be out the rest of the season.
The Lakers lost to the Hawks 96-92.
It has already been a mediocre season for the Lakers, who acquired Steve Nash and Dwight Howard last summer. The team is still struggling to make the playoffs and without Bryant their chances are slim.
Bryant, 34, has carried the Lakers during much of their recent turnaround and ranks as one of the NBA's leading scorers averaging 27.5 points per game.