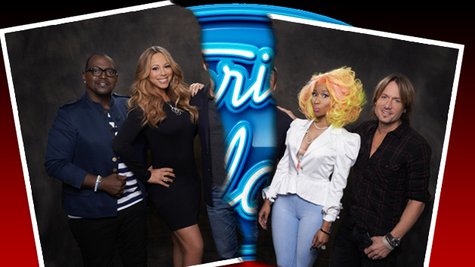 This week's Glee episode is called "Feuds," and what better way to illustrate musically that concept than through the music of American Idol's notoriously feuding judges, Mariah Carey and Nicki Minaj ?
In the episode, the Glee club members assign Will and Finn to work out the tension between them by performing a mash-up of artists who've feuded with one another. This leads to a series of similar mash-ups, and Blaine teams up with Coach Sue Sylvester, of all people, to highlight Mariah and Nicki's much-publicized on-set feud.
Blaine sings a sped-up version of Mariah's 1988 single "I Still Believe," which then segues into Sue performing -- believe it or not -- Nicki's hit "Super Bass," complete with rapping. It's sort of a train wreck , just like Mariah and Nicki's real-life feud.
As for whether or not the two stars mind being poked fun of in this way, the answer's probably not, because American Idol and Glee both air on Fox.
Copyright 2013 ABC News Radio