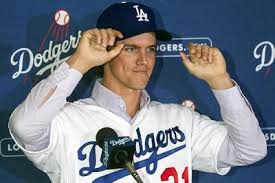 Los Angeles Dodgers starting pitcher Zack Greinke has been diagnosed with inflammation in the back of his right elbow.
Greinke will miss his spring training start for the Dodgers next Monday.
Greinke won the AL Cy Young Award in 2009 and signed a $145 million six-year deal with the Dodgers in December 2012.
Team doctors say he received an injection of platelet-rich plasma and anti-inflammatory medication. Greinke will rest for two or three days and then begin a progressive throwing program.
As a starter for the Milwaukee Brewers and Los Angeles Angels 29-year-old Greinke was 15-5 with a 3.48 ERA and 200 strikeouts in 212 1/3 innings during the 2012 season.