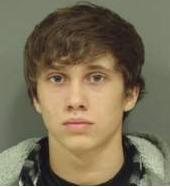 Police have arrested an 18-year-old Riverton Parke High School senior on charges of voyeurism.
Matthew Haltom was arrested after allegedly tanning at the Sun Factory Tanning Salon in Clinton and then scaling the wall and using his phone to video the female in the room next to his.
Police are continuing to investigate to see if there was a video on his phone and if he sent it to anyone.
The owners of Sun Factory Tanning say that they have already taken steps to make sure that this kind of thing is not possible in the future.