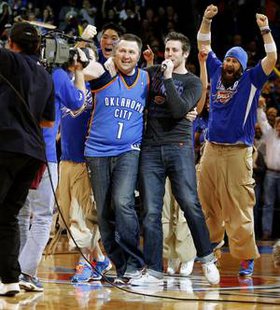 An NBA fan whose wife has cancer won a special prize at the Oklahoma City Thunder game.
Heath Kufahl was called out of the stands between the third and fourth quarters Tuesday night to shoot a half-court shot for a chance to win $20,000.
Kufahl's wife was recently diagnosed with Stage 3 colon cancer. He says he will use the money to pay for medical bills.
The Thunder went on to beat the Lakers.