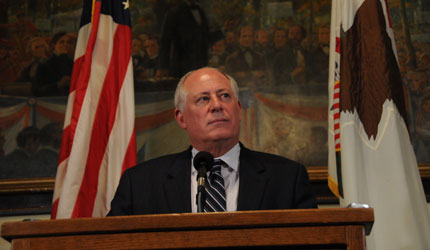 Democrat Gov. Pat Quinn delivered his annual budget address before lawmakers on Wednesday.
His budget calls for about $400 million in cuts to education.
Quinn said early childhood development is crucial and access to higher education is fundamental to a student's earning potential and he is trying to preserve funding in those areas but the lawmakers' inaction on the $100 billion dollar pension crisis make cuts unavoidable.
Quinn wants any state revenue from gambling to go toward education, but Quinn said any new gambling legislation must have ethical protections. The Illinois Federation of Teachers said that they didn't create the pension funding problem and shouldn't have to fix it.
Also in his budget address Wednesday, Quinn called on lawmakers to end corporate tax loopholes to help pay down the state's massive backlog of unpaid bills.
A coalition of unions said Gov. Quinn's budget address was an important nod at the pension problem, but members disagree with how Quinn framed the issue
Click below to watch video of budget address or to be able to download the full script in pdf form.