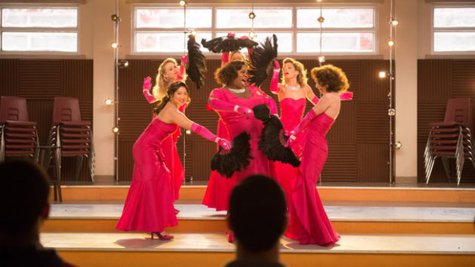 It's Glee night at the movies on Thursday, as all the New Directions kids are assigned to sing their favorite songs from a film.
As previously reported, the episode will feature Glee 's 500th musical performance -- a version of the Isley Brothers ' "Shout" from Animal House . But in addition, you'll hear songs made famous in the movies Top Gun , Risky Business , Moulin Rouge , Ghost and Footloose , among others. And, as Will tries to woo back his runaway bride Emma, he'll serenade her with Peter Gabriel 's "In Your Eyes," just like John Cusack in the movie Say Anything.
In a subplot, Kurt and Rachel aren't happy about Santana moving into their New York City loft, because she's making herself a little bit too comfortable. Then, she uncovers some shocking information....we're assuming it has to do with Rachel's boyfriend Brody, who apparently works as a male escort when she's not around.
As previously reported, proceeds from downloads of "Shout" will go to the Give a Note Foundation, which funds musical education for kids.
Here's the song list for Thursday's Glee episode, called "Girls (and Boys) on Film":
"You're All the World to Me" (Fred Astaire, from Royal Wedding ) / Will & Emma
"Come What May" (from Moulin Rouge ) / Kurt & Blaine
"Shout" (Isley Brothers, from Animal House )/ New Directions boys
"Old Time Rock and Roll/Danger Zone" (Bob Seger/Kenny Loggins mash-up, from Risky Business/Top Gun ) / New Directions boys
"Diamonds Are a Girl's Best Friend"/"Material Girl" (Marilyn Monroe/Madonna mash-up, from Gentlemen Prefer Blondes )/ New Directions girls
"In Your Eyes" (Peter Gabriel, from Say Anything ) / Will & New Directions
"Unchained Melody" (Righteous Brothers, from Ghost ) / Jake
"Footloose" (Kenny Loggins, from Footloose ) / New Directions
Copyright 2013 ABC News Radio