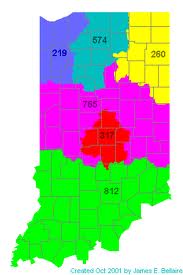 An update now on a story that we brought you a couple of months ago.
State officials say the 812 area code will run out of numbers by 2015. The Indiana Utility Regulatory Commission had the first of 10 public hearings throughout the 812 area to gather public comment Monday night here in Terre Haute.
There are two main ideas to fix the problem.
One would be to split the 812 area code into two.
Half would stay 812 and the other half would be moved to a new are code.
The second idea would simply add another area code to the same area for new numbers.
The second idea would mean that everyone would have always dialed the area code and number no matter who you called.
A final decision is still a way off.