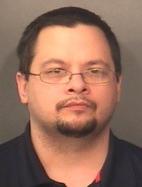 We told you earlier about a former Terre Haute resident who used to work for an area bank being charged with possession of child pornography and other crimes.
A one-year State Police investigation led to the arrest of 38 year old Christopher Cyre.
He was arrested in Kentucky and has now been brought back to Terre Haute.
Police believe he used a work-issued laptop and his employer's network to access peer-to-peer sharing sites, where he accessed child pornography.
Police say that he was an IT specialist for a local bank.
That unidentified bank has been fully cooperating with police. He also admitted to Skyping or online video chatting with young girls. Cyre is jailed on $50,000 bond.