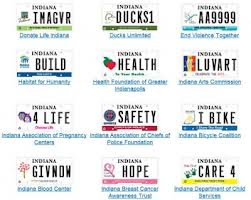 Groups with specialty auto license plates would face new sales and financial reporting requirements under a proposal endorsed by an Indiana Senate committee. The Senate's transportation committee voted Tuesday to advance the bill to the full Senate.
The bill would mean that all groups with plates would have to sell 500 a year and undergo a financial review once a decade.
There would also be a limit of 150 specialty plates.
The state now has about 100 specialty plates.