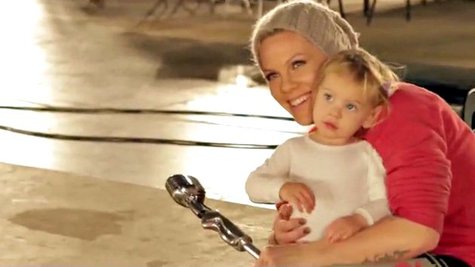 Pink , whose daughter Willow is 18 months old, says she's ready to expand her family, but she wants to do it by adopting, Brangelina -style.
Speaking to the British paper The Daily Mirror , Pink says, "I'd like five kids. I want to adopt. We have four rescue dogs and we'd like some rescue children as well!"
Pink adds, "How amazing are Brad and Angelina, though? I don't know how they do it, I have one kid and I'm exhausted. I don't do one-sixteenth of what that woman does."
Still, Pink's determined to expand her family and says her husband Carey Hart is all for the five-kid plan, but she says that may slow down her musical career a bit. Currently out on the road on her Truth About Love tour, Pink tells the Mirror, "I don't think I'll ever give up performing. But I don't know if I would do it as full-on with more kids. I only have 'off' or 'on,' so I'd have to seriously figure out different speeds."
Copyright 2013 ABC News Radio