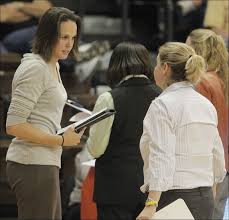 A women's basketball coach at Bowling Green State University in Ohio resigned recently after the assistant coach admitted to having a relationship with a student in the program.
Ali Mann put in her resignation Thursday after one year as assistant coach.
The athletic director for Bowling Green State University says the relationship was consensual and no NCAA rules were broken. The AD uses the word student because it is unknown if the "student" was a player, a trainer, manager or practice player within the basketball program.
Mann ranks second on the teams scoring list. She played for the Falcons as a four-year starter from 2003-2007.