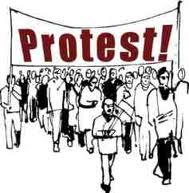 There was the possibility of a protest yesterday at North Central High School in Sullivan County.
At the end of the day, one person showed up and he stayed in his car.
Officials were ready with extra security on hand to make sure that everyone was safe and that those that wanted to protest would have the constitutional right to freedom of speech.
A teacher that works at the school recently came under fire after expressing her personal views concerning homosexuals and he view points about gay students attending another schools prom.