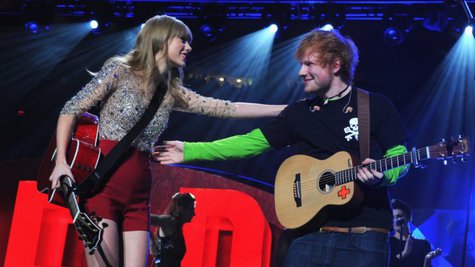 Ed Sheeran has said numerous times that he and Taylor Swift are just friends, and she probably wouldn't be interested in dating him anyway, because he's not her type. But, as the name of their duet suggests, perhaps "Everything Has Changed."
A witness tells E! Online that on February 19, the night before the Brit Awards were held in London, Ed arrived at Taylor's hotel and went to her room, where he stayed until around 4 a.m. When he left, says the source, he got into the same car that Taylor had used earlier in the day and was driven away.
So is this something new between them, or the rekindling of an old flame? A source tells E! that Ed and Taylor "briefly dated" last spring, and said that they had "great chemistry" together.
If the two are interested in a romance, it certainly won't have to be a long-distance one: Ed's opening for Taylor on her upcoming Red tour. Of course, there is one potentially awkward thing about the two of them getting together: Ed's good friends with Harry Styles .
Copyright 2013 ABC News Radio