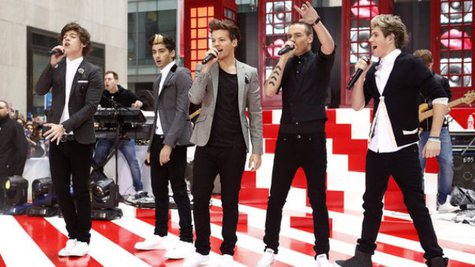 Another day, another award for One Direction . This time, the group has been named Best Live Act at the U.K.'s annual Silver Clef Awards.
The Silver Clef Awards are presented each year by Nordoff Robbins , a music therapy charity. The Best Live Act award is voted on by the public, and One Direction beat out big names like Bruce Springsteen and Coldplay for the honor, receiving about a quarter of some 26,000 votes cast.
In a statement, 1D's Harry Styles said, "Thanks to everyone who voted for us to win the Nordoff Robbins Best Live Act 2013. We are over the moon. Congratulations to Nordoff Robbins on another amazing Silver Clef Awards. What an incredible charity, helping people with music therapy."
The Best Live Act award is the only one of 10 Silver Clefs given out each year that's voted on by the public. Other winners this year include Coldplay, named Best British Act; Bee Gees legend Barry Gibb , who's getting a lifetime achievement award; and rising U.K. star Labrinth, whose song "Beneath Your Beautiful" is climbing the charts here in the U.S. He received a special Innovation Award.
Copyright 2013 ABC News Radio