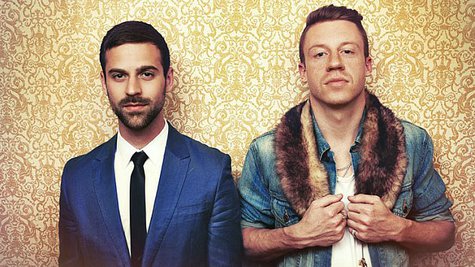 Macklemore & Ryan Lewis have set a sales milestone with their recent #1 smash "Can't Hold Us." According to Yahoo! Chart Watch , the song has topped the three million mark in sales. It's the duo's second song to sell three million copies: "Thrift Shop," of course, is the other one. This makes Macklemore & Lewis only the second duo in history to have two three-million-selling downloads: LMFAO is the other.
In addition, "Can't Hold Us" has a special honor: it's the 200th song in the digital era to sell three million copies. The first one was "Crank That (Soulja Boy)" by Soulja Boy Tell Em , back in 2008. Since then, Rihanna has racked up the most three-million sellers with 11.
Meanwhile, Justin Timberlake has something to celebrate as well: his album The 20/20 Experience has become the first album to sell two million copies this year. In fact, the album has sold more than twice as many copies as the two other biggest sellers of 2013: Bruno Mars ' Unorthodox Jukebox and Mumford & Sons ' Babel. Those discs have moved 963,000 and 873,000 copies respectively.
Copyright 2013 ABC News Radio