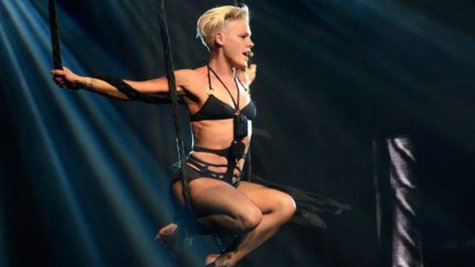 Pink isn't just a superstar in North America: she's pretty much the Queen of Pop in Australia, too, which is why she'll be touring there for an incredible 11 weeks straight. She kicked off her tour in Perth Tuesday night, but revealed later on Twitter that her daughter Willow isn't very happy about mommy returning to the stage after a long break.
"Thank u to all the lovely and loving people that joined me tonight in Perth for the opening of our Aussie run. You made my heart happy," Pink tweeted after the show. "My daughter has major separation anxiety right now so is it okay if I just hold her for the entire tour?"
Pink also acknowledged that she hadn't performed live in a while -- according to reports, she dropped to her knees at one point and telling the audience, "Oh my God, I feel like I haven't been to the gym in a month."
But that didn't stop her from belting out hit after hit, and flying over the crowd with her patented aerial acrobatics. In addition to all her smash singles, she also covered Cyndi Lauper 's "Time After Time" for what she said was the first time ever, referring to handwritten notes so she wouldn't forget the lyrics.
Pink will perform 46 shows in all in Australia, and has already sold half a million tickets; the tour is estimated to earn her $100 million. She's the most successful solo artist in Australian touring history, according to Billboard.
Copyright 2013 ABC News Radio