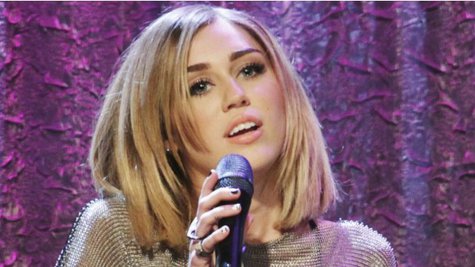 Miley Cyrus made an appearance on ABC's Jimmy Kimmel Live! Tuesday to chat with the host and perform her two new singles, "We Don't Stop" and "Fall Down." After doing Kimmel , Miley packed up and caught a red-eye flight from Los Angeles to New York City to make appearances Wednesday on ABC's Good Morning America and the syndicated Live with Kelly & Michael.
For her Kimmel visit, Miley wore sky-high-heeled thigh-high boots and matching black "underwear" as Kimmel called it, as well as a white mesh top. Kimmel joked that it was probably the first time any guest sat next to him wearing underwear.
Miley joked about Kimmel's eye injury, saying of his too-close encounter with a car door, "I've used that excuse before, too. When you go in and get a little, you know, lift and tuck." She then clarified, saying she's never gotten plastic surgery, insisting she's "100 percent natural."
Miley also said her collaboration with Snoop Lion on the song "Ashtrays and Heartbreaks" led to a great friendship between the pair: "He ended up just becoming a homie, 'cause he...just comes by the studio and he listens to my music and he's really...involved and...he is excited about what I'm doing with my career, so it's really cool."
She also said of the rapper and marijuana aficionado, "We're very similar, he actually said that," to which Kimmel joked, "That's because he's so high he doesn't even know what his name is anymore."
Cyrus, who recently caught flak for her support of weed, replied, "Me too! We both are."
Miley capped the appearance by performing her new singles "We Don't Stop" and "Fall Down," the latter with will.i.am.
On Wednesday, Good Morning America viewers will see behind-the scenes footage of Miley's cross-country media blitz. She's also scheduled to deliver another live performance.
Copyright 2013 ABC News Radio