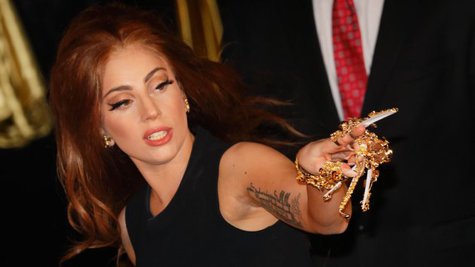 Forbes magazine has released the 2013 edition of its "Celebrity 100" list, and pop stars dominate the top 10.
The list ranks the world's most powerful celebrities based on several factors, including estimated earnings, marketability, and media presence.
Lady Gaga ranks second on the 14th annual "Celebrity 100" list, trailing only Oprah Winfrey . Gaga earned an estimated 80 million dollars over the past 12 months, three million more than Oprah. It seems Gaga -- who placed fifth on the 2012 edition of the list -- had a slightly lower profile than Oprah did, as hard as that may be to imagine.
Beyoncé is fourth on the list -- she raked in 53 million dollars -- and Madonna is fifth, after pulling in 125 million, the most of any celebrity in the top 10.
Taylor Swift , Bon Jovi and Justin Bieber also made the top 10. Lower down on the list is last year's number-one celebrity, Jennifer Lopez , as well as Rihanna , Coldplay , Simon Cowell , Katy Perry , Ryan Seacrest , Jay-Z, Kanye West , Calvin Harris and David Guetta .
Adele and Elton John are among the celebrities who were dropped off the list after making appearances on it last year.
Check out the entire "Celebrity 100" at Forbes.com/Celebs .
Copyright 2013 ABC News Radio