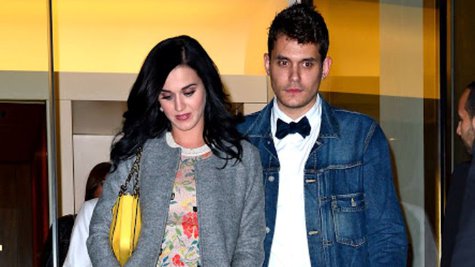 There's more evidence to suggest that Katy Perry and John Mayer are giving their romance another try. They were spotted together at an event Monday night in New York City.
John arrived solo at the Friars Foundation Awards Gala, where he was scheduled to perform, but he was soon joined by Katy. The Friars Club event honored comedian Don Rickles .
"Katy arrived after the event had already started but before dinner was served," a source inside the party tells ABC News. "A waiter brought a chair to John's table for her just before her arrival."
The two cozied up to each other pretty quickly, and were "affectionate" and "very lovey-dovey," the source adds.
"They were smooching and rubbing one another's backs," the insider says. "And Katy had her arm around John at one point."
Reps for the two stars have yet to comment on the status of their relationship, though E! Online has reported that John and Katy appeared "cuddly and cute" together at the Greenwich Hotel and Bowery Hotel in New York City on Saturday.
Katy said in a recent interview with Vogue magazine that she still harbored feelings for John after their split.
Copyright 2013 ABC News Radio