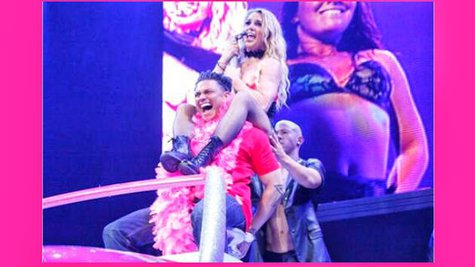 If you saw Britney Spears ' Femme Fatale tour, you know that during her performance of "Lace and Leather," she'd pull some lucky guy from the audience, handcuff him to a chair and wrap a feather boa around his neck. Now, those two accessories can be yours...and the money will go to a good cause.
Britney is auctioning off the handcuffs and the boa from the tour on the website true2bid.com , with all proceeds going to Soles4Souls, a charity that distributes footwear to needy people worldwide.
She announced the auction on Twitter , writing, "I always had so much fun with the boa & handcuffs on the Femme Fatale Tour every night! You guys remember right?!" She helped jog fans' memories by posting a photo of herself handcuffing DJ Pauly D, who toured with her. "Now u can bid on the boa & handcuffs from the tour & help support @soles4souls ...such an amazing cause," she added.
In other Britney news, she and Miley Cyrus have a mutual admiration society going on via Twitter. First, Britney reached out to Miley to compliment her on her scandalous new video "We Can't Stop." "Loving your new video," she wrote. "Maybe you can teach me how to twerk sometime LOL ;) xo."
Miley replied , "we could twerk it out in exchange for u teaching me da moves 2 'slave for you' (I've been practicing for the past 10 years)." Britney answered, "That's a deal im going to hold you 2."
Of course, as sweet as it is, the whole conversation just might have been staged to promote Miley's video, since the two former Disney stars are now managed by the same guy , Larry Rudolph .
Copyright 2013 ABC News Radio