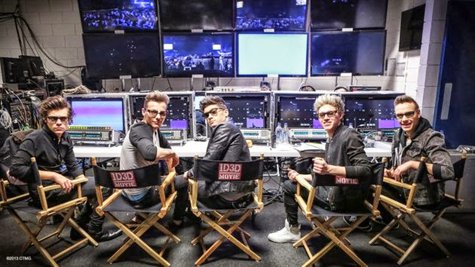 As the release of the One Direction movie This Is Us draws closer, another trailer has been released showing the lighter side of the lads' crazy lives. Yes, the movie will show the guys performing in front of thousands of screaming fans, but the new trailer proves that you'll also get some great behind-the-scenes stuff as well.
In the trailer, you'll see Harry , Liam , Louis , Zayn and Niall arriving in Japan and then trying to figure out exactly what they're eating during a group meal. You'll see Harry visiting the bakery where he used to work and embracing the old ladies who used to be his co-workers. "She's the one who used to pinch my bum," Harry says of one woman. "Yes I did!" she says proudly.
There are also scenes of Zayn, shirtless, doing karate moves, Louis shirtless in his underpants, a couple of the boys wrestling shirtless...we sense a theme here. You'll also see Louis driving some sort of golf cart around backstage, Harry riding a lawnmower, Liam fishing, the boys all trying to pitch a tent in the forest and then sitting around a bonfire, and, of course, the guys performing onstage.
"Just five normal lads, having the time of their life," says Louis in a voice-over. This Is Us hits theaters August 30.
Copyright 2013 ABC News Radio