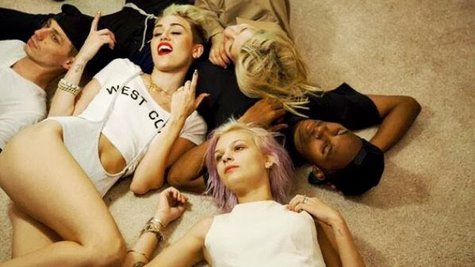 Remember the days when people got bent out of shape over Miley Cyrus' "Can't Be Tamed" video? Well, just wait 'til folks get a look at Miley's new video for her song "We Can't Stop," which contains a lot of suggestive gyrating, as well as a series of bizarre, disturbing and, some might say, gross images.
Playing off the theme of being able to do whatever you want without anyone stopping you, here's what you'll see in the video:
--A guy eating a money sandwich.
--Miley wearing a series of increasingly skimpy white outfits, grinding in a bathtub and on a bed, twerking with her fans and slapping their butts.
--Someone chopping off their (obviously fake) fingers, followed by pink liquid oozing out.
--Miley and her friends frolicking in a pool and wrestling on the floor.
--A guy making a skull out of french fries.
--Miley sleeping next to some random shirtless guy, whose torso she kisses.
--People dancing with enormous stuffed teddy bears strapped to their backs.
--Miley french-kissing a large doll in a pool.
--A guy holding a big neon sign between his legs with the letters U-C-K on it.
--Miley breaking a pinata filled with what looks like either hot dogs or blunts.
--A girl and a guy with smoke belching out of their crotches.
--Miley walking around in a huge fur coat carrying what appears to be a dead stuffed lamb.
If Miley's seeking to erase any memories of Hannah Montana from our brains, with this video she just may have succeeded.
Copyright 2013 ABC News Radio