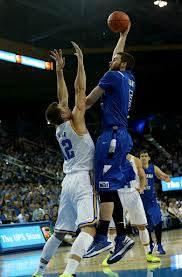 Indiana State's Justin Gant has been selected to play basketball with the Athletes In Action Foreign Basketball Tour this summer.
The tours roster will be filled with Division I student-athletes and professional players.
The tour will start in Dayton, Ohio with a five day training camp on July 27 and run from August 1 – August 10.
The team will prepare to play a four-game schedule competing against senior-level players and professionals in Ivory Coast, Africa.
The group will host basketball camps, coaching clinics and help extend humanitarian aid by handing out a large supply of basketball shoes and equipment all across the Ivory Coast.