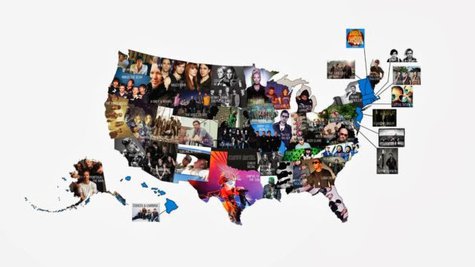 If you've ever been to a music festival, you know how hard it is to figure out which act you want to see at any given time because so many are performing simultaneously on different stages. Now imagine that same scenario, except instead of taking place in the same location, all the acts are performing simultaneously across all 50 U.S. states. That's the concept behind Budweiser's "50/50/1" concert event, scheduled for August 1.
Phillip Phillips , Emeli Sande , Miguel and Ludacris are just some of the acts who'll be taking the stage in every single state in the union -- from Alabama to Wyoming -- on August 1st. For example, Phillip will be performing in Denver, Colorado; Emeli will take the stage in Minneapolis, Minnesota. Miguel -- without Mariah Carey , we assume -- will perform in Los Angeles, California, and Ludacris will rock the stage in Atlanta, Georgia.
Other artists involved include Kendrick Lamar , Alex Clare , Capital Cities , Sick Puppies , Big Boi and Jimmy Eat World . Get the full lineup on Bud Light's MySpace hub.
Tickets for some concerts are available for purchase at LiveNation.com, but many more are available to win through the Bud Light app, Bud Lights' Facebook page or Bud Light's MySpace hub. Select performances will also be streamed on the MySpace site.
Here's the bad news: all concert attendees have to be 21 years of age and older.
Copyright 2013 ABC News Radio