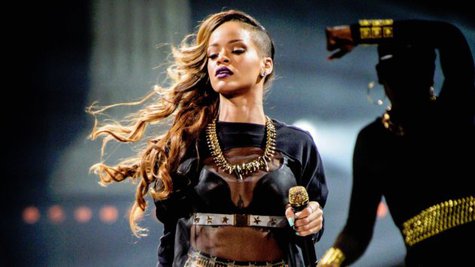 Beyonce fans recently saw what happened to the guy who slapped her on the butt during a recent concert: she threatened to have him ejected from the show. But when the same thing happens to Rihanna in the new comedy This Is the End , she takes matters into her own hands.
In the new R-rated comedy, in theaters Wednesday, many of Hollywood's top stars portray themselves, including Rihanna, who's seen at a raging party at James Franco 's house. During the party, a drugged-up, out-of-control Michael Cera , also playing himself, slaps Rihanna's booty -- and she responds by cursing, hauling off and smacking him. And Cera, best known for his roles in Juno and Superbad , tells ABC News Radio that he encouraged her to hit him, well, super-hard.
While filming the scene, "she was not hitting me at first," Cera recalls. But then, he says, "I told her I was gonna hit her harder and harder until she really hit me hard --because she hits me as a reaction to me smacking her bum. So finally, she gave me a real one, and it looks really good, I think."
But Rihanna's triumph is short-lived: not long afterwards, the end of the world arrives -- for real -- and she plunges to her death in an enormous hole that opens up in Franco's front yard. Oh, and don't complain about spoilers: that scene was in the movie's trailer .
Copyright 2013 ABC News Radio