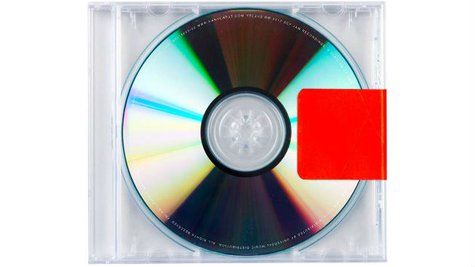 Kanye West does music, fashion, the occasional art installation and more, but what he seems to never do is interviews. But with the release of Yeezus less than a week away, Kanye has spoken, and in a Q&A with The New York Times , 'Ye's given Twitter users a bounty of quotable material.
For one, there's that instance where Kanye compares himself to another famous Chicago favorite, Michael Jordan . Explaining that the music industry can be unfair sometimes, Kanye says, "You know, if Michael Jordan can scream at the refs, me as Kanye West, as the Michael Jordan of music, can go and say, 'This is wrong.'"
Kanye is fighting for "justice," he says -- and not just for himself. Referring to the Grammys, Kanye says, "I remember when both Gnarls Barkley and Justin [ Timberlake ] lost for Album of the Year, and I looked at Justin, and I was like: 'Do you want me to go onstage for you? You know, do you want me to fight'...?"
Who could forget that time during the MTV Video Music Awards, when Kanye interrupted Taylor Swift 's acceptance speech to let everyone know that Beyonce "one of the best videos of all time"? Kanye apologized for that, but he tells the Times that saying sorry came as the result of peer pressure.
He also answers questions about another big milestone in Kanye history: declaring " George Bush doesn't care about black people" during that Hurricane Katrina telethon back in 2005. Kanye agrees that calling out the then-president was "a very pop moment of a lifetime or generation," but he goes on to add, "I mean, my dad's generation is a generation of messaging, you know? But that's just a piece of me being the opinionated individual that I am."
Speaking of opinions, Kanye famously has a high one of himself. Commenting on his place in the pop culture landscape, Kanye tells the Times , "I think what Kanye West is going to mean is something similar to what Steve Jobs means." Kanye says of the Apple co-founder, "I am undoubtedly, you know, Steve of Internet, downtown, fashion, culture. Period. By a long jump. I honestly feel that because Steve has passed, you know, it's like when Biggie passed and Jay-Z was allowed to become Jay-Z."
Also during the interview, Kanye discusses his relationship with Kim Kardashian , who is pregnant with their first child. The relationship has brought a certain sense of calm to Kanye's life. Lately, he's been saying, "'I'm going to be super Zenned out like, five years from now.'"
Kanye, who recently denied reports of cheating on Kim with a Canadian model-slash-bartender, is happy in a relationship. "I'm the type of rock star that likes to have a girlfriend, you know? I'm the type of soul that likes to be in love and likes to be able to focus. And that inspires me," he says.
He also talks about the criticism he got over the scene in Keeping Up with the Kardashians , in which he sorts through Kim's clothes, and replaces her wardrobe. "You know, the amount of backlash I got from it is when I decided to not be on the show anymore. And it's not that I have an issue with the show; I just have an issue with the amount of backlash that I get," he says.
Kanye wouldn't say much about his thoughts on parenthood, "because I've not fully developed those thoughts yet. I don't have a kid yet," he says. He's ready to protect his child and child's mother, he says, explaining, "I just don't want to talk to America about my family. Like, this is my baby. This isn't America's baby."
He did open up about his other baby -- Yeezus , which is due out June 18. He talks about how a lamp inspired his work; discusses working with producer Rick Rubin and more.
Copyright 2013 ABC News Radio