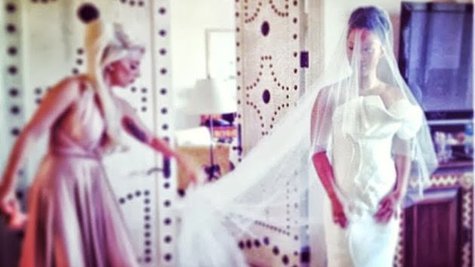 Over the weekend, Lady Gaga turned up in Cabo San Lucas, Mexico, serving as a bridesmaid at her best friend Bo O'Connor's wedding. Now, she's back in New York City and reunited with her boyfriend, actor Taylor Kinney .
E! Online reports the two were snapped strolling around New York on Monday under an umbrella in a downpour. Gaga had her hair up and was wearing bike shorts, a black t-shirt and short black boots and looked almost completely normal -- except for the platform heels on her boots. Kinney, the star of NBC's Chicago Fire , dressed down even further in jeans, ball cap and t-shirt.
During her bridesmaid duties in Mexico, Gaga wore a pink halter-neck gown, what appeared to be a blonde wig and a huge flower in her hair. Last year, she posted a picture of her, her friend and another bridesmaid all trying on wedding gowns in preparation for the big day.
No word on when Gaga, who appears to have largely recovered from her hip surgery, will return to the stage, or release her new album, ARTPOP . She recently posted a photo of herself in the studio with super-producer Dallas Austin .
Copyright 2013 ABC News Radio