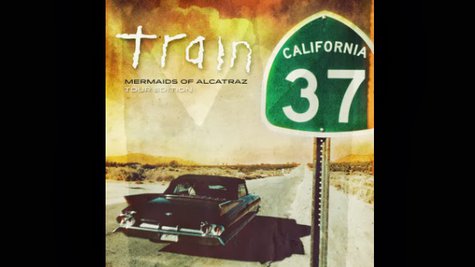 Train is gearing up to hit the road next month on their Mermaids of Alcatraz tour with Gavin DeGraw and The Script, and to get fans excited, they've announcing a special tour edition of their current disc, California 37 .
Due out June 25, the new version features the original California 37 album -- including the hits "Drive By" and "50 Ways to Say Goodbye" and current single "Bruises" -- plus six new tracks. There are two brand new songs -- "Futon" and "To Be Loved," a cover of John Lennon 's classic tune "Imagine," and three live songs recorded during the band's concert in San Francisco last year.
In other Train news, lead singer Pat Monahan has been writing material for the band's next album, and one of his collaborators is kind of a big deal. When one fan on Twitter wrote to the band, "I heard something about you writing a song with @taylorswift13 is this true?" he replied, "Yup! She is a bad ass!" It's not clear if the song is for Train's new album, or a future Taylor record.
Copyright 2013 ABC News Radio