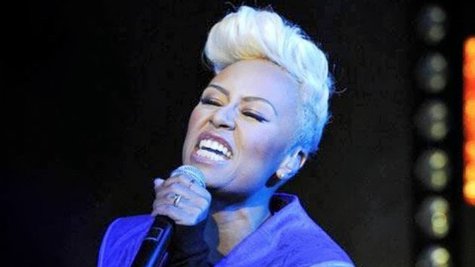 Now that Emeli Sandé 's been on American Idol and Dancing with the Stars, and you've heard her song "Next to Me"s performed on Glee and The Voice, it's easy to see why the Scottish singer/songwriter was an international star even before she got to America. But one particular American recognized Emeli's gifts early on, and offered her advice and the chance to collaborate: Alicia Keys .

Emeli, a lifelong Alicia Keys fan, got the chance to open for the Grammy-winner in London in 2011, and after that, she says Alicia surprised her by reaching out. Emeli tells ABC News Radio, "I was in Spain, actually, and I get this email from Alicia Keys just like, 'Hey girl, congratulations on everything. Do you want to come out to New York and write?' and I'm like, 'Is this a joke?'"
No, the invitation wasn't a joke -- Emeli ended up flying to New York, where she and Alicia got together and wrote the song "Hope," which appears on her debut album Our Version of Events. They also wrote a handful of tracks for Alicia's album Girl on Fire , including "Brand New Me" and "Not Even the King."
Collaborating was a fantastic experience for Emeli, who says that Alicia is not only "a great musician to work with but, as well, she's a great person." The two meshed well in the studio, Emeli says, explaining that "our head spaces really connected at the piano and we wrote some really beautiful music."
And Alicia did more than share her musical talent: she shared some of the experience that comes with being a star for more than a decade. "She's done [everything], like, she knows all," Emeli laughs. "She's like, 'I bet you feel like this and this,' and I'm like, 'Oh my God, how do you know that's happening?!'"
Emeli recalls, in particular, that Alicia advised her, "'Make sure you take time out for yourself and make sure you're enjoying what you do."
Emeli's got a busy summer ahead of her, with concerts and festivals, both in the U.S. and abroad, but following Alicia's advice, she recently did take a bit of time off. "I feel so relaxed, a new clear perspective!" she tweeted a few days ago.
Copyright 2013 ABC News Radio