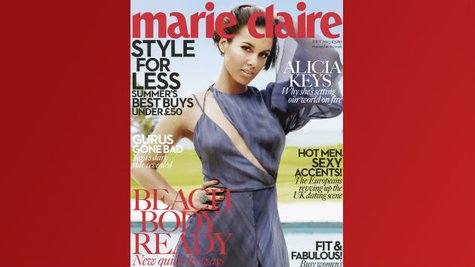 Not every great romance starts with love at first sight. In the July issue of Marie Claire UK , Alicia Keys says she was less than enthralled when she met Swizz Beatz . "Honestly I didn't really like him that much. I thought he was too ostentatious," Alicia says of the flashy rapper and producer, who is now her husband.
"Swizz will have the fastest car, the biggest jewelery, the loudest jacket; everything with him is really over the top," she tells the magazine. "I used to see him and think, 'He is so annoying.'"
Over time though, Alicia's feelings changed. On her Girl on Fire track "That's When I Knew," Alicia sings about the moment she found herself in love. That's "definitely an ode to my husband," she says of the song, which includes the lyrics, "When you barely held my hand I was overcome/ With feelings I don't understand/ Not in a million years I didn't think that we'd be here."
The couple celebrates their their third wedding anniversary this July, and Alicia says, "I think we've taught each other a lot... He's taught me to live more fully and I think I've taught him to live more deeply."
In addition to talking about her hubby, Alicia also dishes on a new passion: directing movies. She says she fell in love with the role, "Because first of all I didn't have to get up early for make-up and, second, I'm a very diplomatic individual." Back in 2011, Alicia directed a segment of Lifetime's breast cancer anthology Five . She's also an executive producer of The Inevitable Defeat of Mister and Pete , which co-stars Jennifer Hudson .
Alicia took a trip to the Bahamas for her Marie Claire UK cover shoot. She poses in a bluish gray dress with summery cutouts for the magazine's cover, and inside, she rocks looks from Gucci, Diane von Furstenberg, Versace and Just Cavalli.
Copyright 2013 ABC News Radio