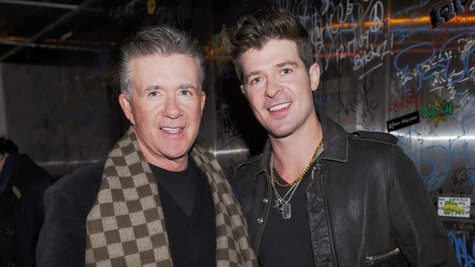 Robin Thicke is having an incredible 2013. And nobody is more excited for him than his father, Alan Thicke -- star of the '80s sitcom Growing Pains -- who recently expressed his joy for his son's rising success.
"[Robin] has now projected himself into a stratosphere, into another level, having raised the bar, the family brand, to unimaginable heights," the actor told People .
With his son's massive hit single, "Blurred Lines," Alan joked, " I occasionally get a good laugh by introducing myself as 'Robin Thicke's father,'" adding that he feel like he's "sharing" his second eldest son "with with the rest of the world now."
The father and son joined creative forces by co-writing a song called " Ain't No Hat 4 That," which appears on Robin's newly issued album. The song also includes an intro from his three-year-old son, Julian Fuego , which Alan points out its one of the less explicit tracks on the project.

"Robin is never shy about dropping the odd scandalous word, and being very sexual in his tunes," Alan shared. "And the one that I was involved in had neither the sex, nor any trace of contentious dialogue!"
Robin Thicke's Blurred Lines album is available now.
Copyright 2013 ABC News Radio