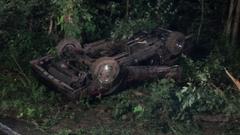 One person was killed in a single car crash that happened just before 3a.m. this morning.
The Vigo County Sheriff's department says that it happened in the 6800 block on Miami Gardens road in eastern Vigo County.
Deputies say that they discovered a white male partially ejected and pinned under the vehicle that had rolled over on its top.
That person was pronounced at the scene.
Police say that the vehicle involved in the crash had been stolen moments prior to the crash.
The investigation is ongoing and the deceased name is being withheld pending notification of next of kin.
An Autopsy is scheduled for early Thursday morning.