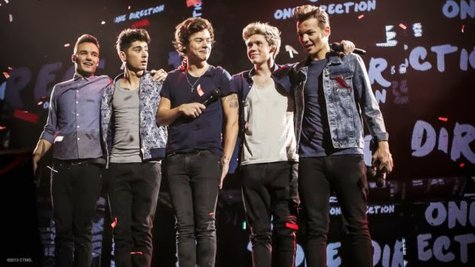 While One Direction is surely one of the most popular music acts on the planet right now, the guys in the group insist that success hasn't gone to their heads. For example, you won't catch them giving concert promoters endless lists of "must-have" backstage items like fresh white roses, black towels, fine Champagne or hard-to-find gourmet food items.
"We haven't actually got a rider," Liam Payne tells Teen Vogue , referring to those lists of backstage demands that all the big stars have. "We never actually sat there and made one. They bring us the stuff they think we like." He adds, "We're not really that diva."
In addition, the group says they're not jaded by the fact that they're followed everywhere by packs of weeping and screaming girls. "I don't see how you could get used to people screaming in your face, and anyone who says different is lying," Niall Horan tells the magazine.
The group has said that their upcoming 3D film, This Is Us, will allow fans to get to know them on a much more personal level, beyond what they read about in gossip magazines.
"It gets frustrating for them at times, because suddenly stuff gets printed that isn't even true," Morgan Spurlock , the director of This Is Us, tells Teen Vogue . "I saw an article that said, ' Harry Styles demands Taylor Swift be taken out of the movie.' But by the time we started filming in January, they had already split up."
Copyright 2013 ABC News Radio