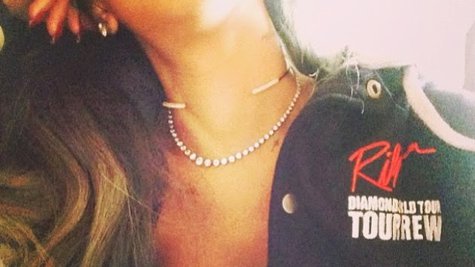 It seems like the end of her European tour has made Rihanna a little misty. Just days after crying on stage in France, Rihanna has written an emotional message to her 8.8 million Instagram followers.
Over the weekend, t he singer posted a picture of herself weari ng a tour crew jacket, and in the lengthy caption she expressed her "anxiety" about the end of the European leg of her Diamonds World Tour, which wrapped on Sunday in Finland.

"Nooooooo!!!" she wrote the last day of her outing. "Here's where I start getting anxiety, I hate missing you, but I'm gonna miss you soooo much!! You are everything to me, truthfully!"
Rihanna tells her Navy how much fun she had rocking out with her legion of fans at every sold out venue.
"Y'all are crazy!!! But that's why I love you! I thank you guys, every one of you, so much for making this yet another unforgettable experience!!!" Rihanna said.
The singer went on to thank everyone who made the trek a success and added, "But most of all I thank God Almighty for putting each of you into my life!"
On Sunday, a humbled Rihanna also thanked her fans for making the visual to "Diamonds" her most viewed video on VEVO , with more than 315 million hits.
According to her official website, Ri Ri is scheduled to resume her world tour in September traveling to China, the Philippines and Singapore before heading to Australia and New Zealand in October.
Copyright 2013 ABC News Radio