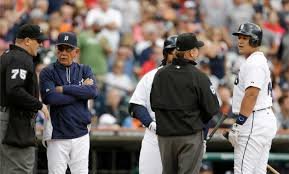 The Detroit Tigers hosted the Philadelphia Phillies in the finale of a three-game series on Sunday.
Detroit slugger Jhonny Peralta had a big game and was a big part of an 8-run 6th inning.
Peralta hit a 'grand salami' in the 6th putting to give the Tigers an 11-3 lead.
Earlier in the game Miguel Cabrera was tossed while batting in the third inning. Manager Jim Leyland was also ejected.
The Tigers did well even without their top hitter and demolished the Phillies 12-4.
For a complete look at all MLB scores from July 28th and the weekend click the link below...