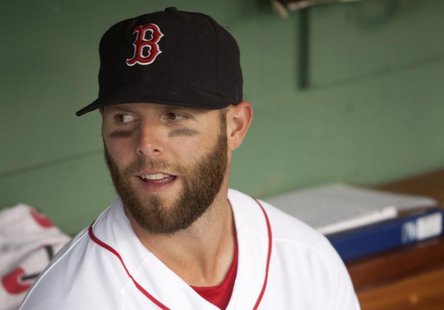 (Reuters) - All-Star second baseman Dustin Pedroia signed an eight-year contract extension with the Boston Red Sox on Wednesday, all but ensuring he will fulfill a dream of spending his entire career with the Major League Baseball team.
Though financial details were not disclosed, the deal is estimated to be worth $110 million, beginning in 2014 and continuing through the 2021 season.
A four-time All-Star who won a World Series with Boston in 2007, the 29-year-old Pedroia is hitting .306 this season with 25 doubles, six home runs and 58 RBIs in 101 games.
"Dustin's numbers are great, but they don't tell you how committed he is to winning," Red Sox manager John Farrell said in a statement.
"Watch him every day, on the field and in the clubhouse, and you see exceptional skill and passion. His teammates will tell you: he's a winner, a winner who loves the Red Sox and a winner who loves Boston."
Scouted, drafted and signed by the Red Sox, Pedroia is one of only eight players to have won a World Series along with rookie of the year and most valuable player honors, and also Gold Glove awards.
He is bracketed with Willie Mays, Frank Robinson, Pete Rose, Johnny Bench, Thurman Munson, Cal Ripken junior and Albert Pujols in illustrious company.
However, Pedroia is most excited about the prospect of ending his playing days in Boston.
"This is my home." he told reporters earlier this week. "I love being here, I love my teammates, I love this city. That's really important. The Red Sox drafted me. A lot of teams passed on me because of my size and stuff like that.
"That's why I want to make sure I work as hard as I can to make sure that they made the right choice in drafting me and me being here my whole career."
Pedroia was the American League (AL) rookie of the year in 2007 before being named the AL's MVP the following season. He won Gold Glove awards in 2008 and 2011 and earned his fourth All-Star appearance last week.
(Reporting by Mark Lamport-Stokes in Los Angeles; Editing by Frank Pingue)