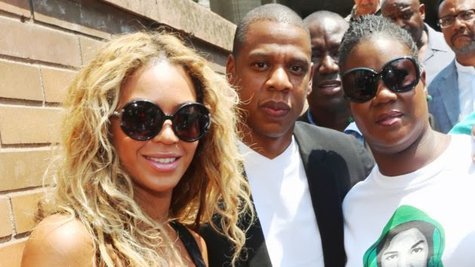 Since George Zimmerman was found not guilty in the shooting death of Florida teen Trayvon Martin, many artists have spoken out on Twitter expressing their disappointment over the verdict. But Jay Z and Beyonce have now gone one step further, appearing at a "Justice for Trayvon" vigil in New York City on Saturday.
The New York Daily News reports that the super couple were among the attendees at the vigil in Harlem, and also met Martin's mother, Sybrina Fulton . While the two didn't speak to the press -- "I'm not here to do interviews, thank you," said Hova -- some in the crowd urged the couple to boycott concerts in Florida over the incident, as Stevie Wonder has announced he will do. According to the News, chants of "No concerts in Florida!" could be heard.
At their concert on Friday at New York's Yankee Stadium, Jay Z and tourmate Justin Timberlake dedicated the rapper's song "Young Forever" to Trayvon. The two had previously done the same at a tour stop in Toronto . As previously reported, Beyonce had called for a moment of silence for Trayvon at her own concert, and also sang the chorus of "I Will Always Love You."
Copyright 2013 ABC News Radio