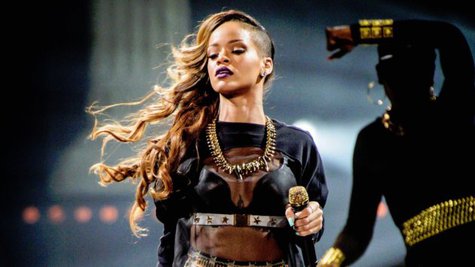 Rihanna is currently touring overseas for her Diamonds World Tour, but it seems her U.K. fans were less than pleased with the singer for her repeated late concert arrivals.
After taking stage over an hour after the scheduled show time, Ri Ri's fans threw potato chips at her during a performance in Manchester.
Following a performance of her 2009 hit "Rude Boy," Rihanna is seen in footage that surfaced online stopping the band and addressing the hecklers, "There's a good crazy, and there's a bad crazy, when you throw sh*t up here, that's an epic fail."
As the crowd quiets, Rihanna continues, " I wanna get your gifts but I don't want you to knock my people out before we do this sh*t . I swear to God, cut that sh*t out. Really? Chips though? That's that important?"
Rihanna then resumes the show with her a performance of "What's My Name."
This marks the latest tour drama that's followed Ri Ri. Her European fans previously chanted Beyonce as they waited for nearly an hour for Rihanna to perform, and she's received harsh concert reviews on Twitter.
Copyright 2013 ABC News Radio