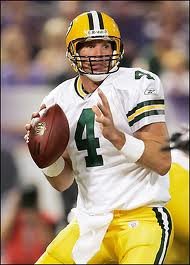 The Green Bay Packers CEO Mark Murphy said that Brett Favre's number 4 jersey will be retired.
The organization wants to retire his jersey before he is inducted into the NFL Hall-of-Fame just don't expect it to be this season.
Green Bay has just recently stated they would like Favre "back in the family" and this is one way of showing their appreciation for what number 4 has accomplished.
Brett Favre played in Green Bay from 1992-2007, won a Super Bowl in 1996 season and finished his stint in Green Bay with 61,655 yards and 442 touchdowns.