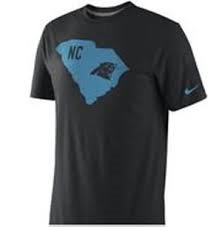 Nike made a mistake on a certain football team's shirt.
A T-shirt made by Nike with a Carolina Panthers logo and a "NC" had the outline of South Carolina instead of North Carolina.
Nike has apologized and removed the shirt from production.
The Panthers have played all of their games in Charlotte, North Carolina except for the inaugural season in 1995 when the team played in Clemson, South Carolina.